Let Living Praise help you worship God
"From the moment we heard Living Praise we have been moved by their beautiful music. It is inspiring, uplifting, and anointed! I(Patti) play their CD in my car and their voices speed my way to heaven. For yourself and your friends, let Living Praise help you worship God."
-Al & Patti Mansfeild
We are You
The women of Living Praise come from all walks of life – married, single, divorced, annulled, remarried, professionals, stay at home moms, and home-schoolers. We raise children, grandchildren, horses, dogs, gardens and flowers. We lead and serve in other music groups in our churches, Catholic and Protestant, traditional and charismatic. What has brought us together is a desire to serve the body of Christ with the gifts of worship the Lord has given us. We strive not to perform but share a gift of passionate worship, bringing those we minister to into the Lord's presence.
How we Began
"Living Praise" is a Music Ministry Worship Team founded on the call to worship the Lord through song and praise. We strive to bring an inspiring spirit of worship wherever we sing, inviting all to become "living praise" for the Lord with us.
Though some of our members have sung and worshipped together for nearly 25 years, the group's formal ministry began in 2000 providing worship for women's conferences at Franciscan University of Steubenville. Since then, Living Praise has ministered to over 20,000 at churches, revivals, retreats and other Christian conferences and events. We have provided worship music for numerous Diocesan Women's Events including the Dioceses of Steubenville, Pittsburgh, Greensburg, Youngstown, Altoona, and the Archdiocese of Detroit. One of the regular groups we serve is "Magnificat: A Ministry to Catholic Women". We provide worship music for the quarterly Magnificat prayer breakfasts for the chapter located in Pittsburgh, Pennsylvania (www.magnificatpittsburgh.org). We also minister with music and worship at the biannual International Magnificat Women's Conference in New Orleans, LA (www.magnificat-ministry.org).
Our CD Ministry – "Take us home with you!" 
Our CDs are unique because they are recorded at live worship events. They are filled with genuine, heartfelt, spirit-led praise to our Lord. We are not about performance; we are about worship and creating an atmosphere for others to be able to enter into worship as well. On our CDs, our fellow worshippers can be heard praising, singing and clapping.
We have received so much feed back from those who have our CDs saying, "I worship with you everyday!" "I've worn out my CD praising with you!" "Our prayer group uses your CDs for our worship time every meeting."
We have produced a total of six CDs. The first two CDs entitled, "Draw Me, O King" and "Magnify" were created for the "Worship with Steubenville" CD Series. Having sold over 7,000 copies these CDs we reprinted them again under our new label "Living Praise Worship". They are still called "Draw Me, O King" and "Magnify". Our third CD, "My Soul Must Sing" was recorded live at the International Magnificat Leader's Conference in New Orleans, LA. "Breakthrough to Revelation" Worship was recorded live at the Chicago Charismatic Conference. With this CD, we began our new "Revelation Worship" series, which are CD's aimed at enhancing worship in individual or group settings. This series continues with "River of Life" and "Open the Heavens". We've lost count, but we think we have about 15,000 CDs in the hands of worshipers now! We know they are in at least 15 different countries! "Let all the nations praise Him!"
Be sure to visit our "Store" for details on placing an order for all six CDs! They can be ordered online or you can email us if you would rather send a check.

Susan Potvin
Susan Potvin, worship leader of Living Praise Worship Team, has led and directed music ministry groups for over 30 years. As a conference and retreat speaker, she has a passion to encourage others toward a deep and personal relationship with the Lord.  Susan and her worship team have produced six worship CDs which are designed to encourage sustained worship and to lead worshipers into the heavenly throne room.  Susan is an advisor to Magnificat – A Ministry to Catholic Women and serves as their chairperson for Praise and Worship.  She travels nationally and internationally to lead worship and provide worship workshops for leaders in the church worldwide.  Susan also partners with Women of Grace providing worship for their regional and national retreats.  Married for 34 years with 4 children and one grandchild, Susan also enjoys working as a school counselor at a K-12 Christian school.
Lisa Ledyard
Lisa Ledyard, vocal & percussion, leads an active life raising six children with her husband Chris. She's an all around sports mom, school volunteer, parish cantor, and has been faithfully serving in pro-life ministry for over 20 years.
Karen Jedrzejewski
Karen Jedrzejewski, drummer, experienced a powerful conversion in her life. As a result, she lives a life sold out for God, boldly and joyfully sharing His love with everyone she meets. She and her husband Al raise their 3 children on a horse farm in the country.
Kat Broyard
Kat Broyard, our bassist, has always had a passion for music and service. A multi-instrumentalist and recording studio owner with degrees in music, she puts her passion into action not only in creative worship, but also in her role as director of a faith-based disaster response organization in Florida, where she lives. She has also served as director of a Habitat for Humanity affiliate in Ohio. Kat's passion also includes the environment, biking and scuba diving and hiking and kayaking with her Labrador, Dexter.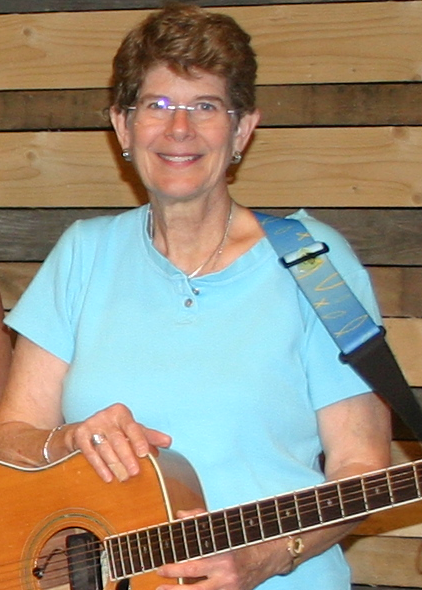 Karen Herrmann
Karen Herrmann, married to John, have nine children in their blended family and 36 grandchildren. Being graced with Baptism in the Spirit 50 years ago, has set her on a path as guitarist, vocalist, composer, music minister in her parish and in her charismatic prayer community, working on Life in the Spirit Seminars, and being a member of Living Praise since its beginning. Her 13 CDs, and 2 videos on YouTube,  (visit…
www.karenherrmann.com
) brings her music ministry to many people. More recently, through an Iraqi bishop who is her spiritual son, her latest CD (Innahu Huna – He is Here in Arabic) has been ministering to Chaldean Catholics in many countries. "The Holy Spirit is never done surprising us, as we say our YES to God!!!!
Anne Recznik
Our keyboard player, Anne Recznik, and her husband, Mark have 5 daughters and 1 granddaughter. She is an alum of Franciscan University and a stay-at-home mom. Their youngest daughter was adopted from China in 2001. Anne also serves in the music ministry of the Community of God's Love, a charismatic prayer community.
Carolyn Cannizzaro
Carolyn is a wife, mother and grandmother. She enjoys teaching, singing and cooking. Ministry is a big part of Carolyn's life.  She is involved as a Catechist, Worship Leader, Cantor, and an Eucharistic minister to the sick and homebound.  Carolyn leads a Women's ministry out of her home called "I AM" Women's Fellowship and she enjoys singing God's praises with Living Praise. Most of all, Carolyn loves our Lord Jesus and desires to share His love with others.
Eileen Benthal
Eileen Benthal is an author, speaker and certified coach with a special heart for people with disabilities and families who care for them. She is the author of Breathing Underwater: A Journey of Hope.  She is also the coordinator for a local chapter of Magnificat-Ministry to Catholic women.  Through her speaking, singing and writing, Eileen shares her family's miraculous and inspiring journey of faith in the midst of severe trials.  Eileen, her daughter and Eileen's "Breathing Underwater" book were featured by Johnnette Benkovic on Women of Grace for EWTN. To purchase signed copies of Eileen's book or to contact her visit breathingunderwater.org.